A couple of weeks ago Claudio Duckardt emailed me asking my opinion of the New Life Version of the Bible. Although I do have a copy of it, I haven't yet spent enough time with it to give an informed opinion. However, since Claudio is positive toward it, I asked him if he would write a guest review.
---
Review of the New Life Version of the Bible
by Claudio Duckardt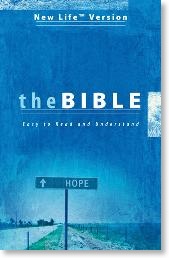 This is a review on the NLV Bible, but I cannot really proceed without speaking about the KJV for a moment. I grew up on the KJV. It has served God's people well. Millions still use it as a primary Bible. However, there is no doubt that it is difficult to read and follow. I don't think the problem is so much the archaic vocabulary as its grammar and syntax. Nevertheless, there is no denying how beautiful and poetic it reads. This translation is considered THE Bible for many.
As I said, I was raised on the KJV, but rarely read more than a few verses in one sitting since I could not understand many of the passages. For years, I neglected much of the Bible, especially the Old Testament. I will never forget how excited and happy I was when I discovered modern versions. These Bibles made God's word understandable, warm, alive, and personal. I finally learned what the Bible was all about. Sure, the KJV-only camp criticized me, but I didn't care. I am in complete agreement that language is fluid, and God's word must reflect these updates or His message will become obscured.
One thing that has always bothered me, however, is the textual issue. As you know, the KJV is based on the
received
(or traditional)
text
while most modern translations are based on the critical one. As a result, many verses found in the KJV are not found in the body of most modern translations. Don't get me wrong…. all mainstream Bible translations are God's word. I am not suggesting that one stream of manuscripts is better or worse than the other. Yet, I have often thought that there should be a dynamic equivalent translation follows the received text. We as Christians owe it to ourselves to have Bibles from both streams. After all, the superiority of one text over the other is based on theory. Sure, the NKJV was translated from the traditional text, but can also be a difficult read. I have often thought it would be nice to have a dynamic equivalence Bible based on the traditional stream of texts.
Well, there is and has been an easy-to-read Bible that is very similar in spirit to the traditional family of English Bibles, the New Life Version. This version uses a base of only 850 vocabulary words (not including names of people and places) in its text. It is not a direct translation from the Hebrew and Greek. Instead, it was "translated" from a more literal Bible into simple English, with most
received text
readings in place. The reader my be thinking "Ah ha! Paraphrase!" but it is actually pretty accurate. While the preface and official website (
www.newlifebible.org
) does not say which version was used, this Bible seems to use the KJV as its basis. The NLV is not well known, but has been available in its complete form since 1986.
At first glance, this version may seem like just another paraphrase. It is much more than that. First, a little history about the NLV. Between 1946-1961, a Canadian missionary couple, Gleason and Kathryn Ledyard, had the privilege of spreading the Gospel to Eskimos that lived in the Canadian artic. They actually lived in igloos with the Eskimos! Mr. Ledyard had a strong desire for the natives to read a Bible in simple English. The versions available at that time were not approachable by new English speakers. Together with his wife, he decided to simplify the text to make the Bible more accessible to their Eskimo friends. However, the couple had a few rules. First of all, no changes would be made to the text in order to avoid making the version a paraphrase. Second, no footnotes would be included. All of the verses (again, as in the KJV) would be included in the text, but asterisks and parenthesis would be used to indicate readings not in some of the ancient witnesses (even though critical text readings are used in some instances). Thirdly, other than proper names of people and places, only 850 Basic English words would be used. Their version of the New Testament was completed in 1969. The Old Testament followed a few years later. Their completed Bible was completed in 1986.
Some Bible terms were simplified to make it more understandable. "Noah's ark" becomes "Noah's boat"; "Gentiles" become "people who do not know God or are not Jews"; "glory" becomes "shining-greatness"; "idolatry" becomes "worshiping false gods." While some of these terms seem childlike, it must be remembered that originally this Bible was designed for beginning English speakers.
STRENGTHS OF THE NLV

The main strength of this version its use of simple sentences and vocabulary. This makes the NLV great for people who have never read the Bible or speak English as a second language. Difficult terms are simplified (much like the NLT). Let me compare a few verses between the KJV and NLV.
GENESIS 3:1-5

KJV

NLV

1 Now the serpent was more subtil than any beast of the field which the LORD God had made. And he said unto the woman, Yea, hath God said, Ye shall not eat of every tree of the garden? 2 And the woman said unto the serpent, We may eat of the fruit of the trees of the garden: 3 But of the fruit of the tree which is in the midst of the garden, God hath said, Ye shall not eat of it, neither shall ye touch it, lest ye die. 4 And the serpent said unto the woman, Ye shall not surely die: 5 For God doth know that in the day ye eat thereof, then your eyes shall be opened, and ye shall be as gods, knowing good and evil.

1 Now the snake was more able to fool others than any animal of the field which the Lord God had made. He said to the woman, "Did God say that you should not eat from any tree in the garden?" 2 Then the woman said to the snake, "We may eat the fruit of the trees of the gar-den. 3 But from the tree which is in the center of the garden, God has said, 'Do not eat from it or touch it, or you will die.' "

4 The snake said to the woman, "No, you for sure will not die! 5 For God knows that when you eat from it, your eyes will be opened and you will be like God, knowing good and bad."

EXODUS 3:11-14

KJV

NLV

11 And Moses said unto God, Who am I, that I should go unto Pharaoh, and that I should bring forth the children of Israel out of Egypt? 12 And he said, Certainly I will be with thee; and this shall be a token unto thee, that I have sent thee: When thou hast brought forth the people out of Egypt, ye shall serve God upon this mountain. 13 And Moses said unto God, Behold, when I come unto the children of Israel, and shall say unto them, The God of your fathers hath sent me unto you; and they shall say to me, What is his name? what shall I say unto them? 14 And God said unto Moses, I AM THAT I AM: and he said, Thus shalt thou say unto the children of Israel, I AM hath sent me unto you.
11 But Moses said to God, "Who am I to go to Pharaoh and bring the people of Israel out of Egypt?" 12 God said, "But I will be with you. And this will be something special for you to see to know that I have sent you: When you have brought the people out of Egypt, you will worship God at this mountain."

13 Then Moses said to God, "See, I am going to the people of Israel, and I will say to them, 'The God of your fathers has sent me to you.' Now they might say to me, 'What is His name?' What should I say to them?" 14 And God said to Moses, "I AM WHO I AM." And He said, "Say to the Israelites, 'I AM has sent me to you.' "

PSALM 23

KJV

NLV

1 The LORD is my shepherd; I shall not want.
2 He maketh me to lie down in green pastures: he leadeth me beside the still waters.
3 He restoreth my soul: he leadeth me in the paths of righteousness for his name's sake.
4 Yea, though I walk through the valley of the shadow of death, I will fear no evil: for thou art with me; thy rod and thy staff they comfort me.
5 Thou preparest a table before me in the presence of mine enemies: thou anointest my head with oil; my cup runneth over.
6 Surely goodness and mercy shall follow me all the days of my life: and I will dwell in the house of the LORD for ever.
1 The Lord is my Shepherd. I will have everything I need.
2 He lets me rest in fields of green grass. He leads me beside the quiet waters.
3 He makes me strong again. He leads me in the way of living right with Himself which brings honor to His name.
4 Yes, even if I walk through the valley of the shadow of death, I will not be afraid of anything, because You are with me. You have a walking stick with which to guide and one with which to help. These comfort me.
5 You are making a table of food ready for me in front of those who hate me. You have poured oil on my head. I have everything I need.
6 For sure, You will give me goodness and loving-kindness all the days of my life. Then I will live with You in Your house forever.

Job 36:26-31

KJV

NLV

26 Behold, God is great, and we know him not, neither can the number of his years be searched out. 27 For he maketh small the drops of water: they pour down rain according to the vapour thereof: 28 Which the clouds do drop and distil upon man abundantly. 29 Also can any understand the spreadings of the clouds, or the noise of his tabernacle? 30 Behold, he spreadeth his light upon it, and covereth the bottom of the sea. 31 For by them judgeth he the people; he giveth meat in abundance.
26 See, God is honored, and we do not know Him. We are not able to know the number of His years. 27 For He takes up the drops of water that become rain, 28 which the clouds pour down. Much rain falls on man. 29 Can anyone understand how the clouds are spread out, or how He thunders from His tent? 30 See, He spreads His lightning around Him and covers the bottom of the sea.

31 For by these He judges the people and He gives much food.
The NLV's New Testament keeps intact most of the readings found in the KJV.
For example, compare the Lord's Prayer between both versions:
MATTHEW 6:9-13

KJV

NLV

9 After this manner therefore pray ye: Our Father which art in heaven, Hallowed be thy name.
10 Thy kingdom come. Thy will be done in earth, as it is in heaven.
11 Give us this day our daily bread.
12 And forgive us our debts, as we forgive our debtors.
13 And lead us not into temptation, but deliver us from evil: For thine is the kingdom, and the power, and the glory, for ever. Amen.
9 "Pray like this: 'Our Father in heaven, Your name is holy. 10 May Your holy nation come. What You want done, may it be done on earth as it is in heaven. 11 Give us the bread we need today. 12 Forgive us our sins as we forgive those who sin against us.

13 'Do not let us be tempted, but keep us from sin. *Your nation is holy. You have power and shining-greatness forever. Let it be so.'
The following are other examples of the NLV following the KJV's lead:
MARK 7:15-16

KJV

NLV

15 There is nothing from without a man, that entering into him can defile him: but the things which come out of him, those are they that defile the man.
16 If any man have ears to hear, let him hear.
15 It is not what goes into a man's mouth from the outside that makes his mind and heart sinful. It is what comes out from the inside that makes him sinful. 16 You have ears, then listen!"

LUKE 9:55-56

KJV

NLV

55But he turned, and rebuked them, and said, Ye know not what manner of spirit ye are of.
56For the Son of man is not come to destroy men's lives, but to save them. And they went to another village.
55 Jesus turned and spoke sharp words to them. (*He said, "You do not know what kind of spirit you have. 56 The Son of Man did not come to destroy men's lives. He came to save them from the punishment of sin." They went on their way to another town.)

JOHN 5:2-4

KJV

NLV

2Now there is at Jerusalem by the sheep market a pool, which is called in the Hebrew tongue Bethesda, having five porches.
3In these lay a great multitude of impotent folk, of blind, halt, withered, waiting for the moving of the water.
4For an angel went down at a certain season into the pool, and troubled the water: whosoever then first after the troubling of the water stepped in was made whole of whatsoever disease he had.
2 In Jerusalem there is a pool with five porches called Bethesda near the sheep gate. 3 Inside these porches lay many sick people. Some were blind. Some could not walk. Some could not move their bodies. 4 (*An angel of the Lord came at certain times and made the water move. All of them were waiting for it to move. Whoever got in the water first after it was moving was healed of whatever sickness he had.)

ACTS 8:36-37

KJV

NLV

36And as they went on their way, they came unto a certain water: and the eunuch said, See, here is water; what doth hinder me to be baptized? 37And Philip said, If thou believest with all thine heart, thou mayest. And he answered and said, I believe that Jesus Christ is the Son of God.
36 As they went on their way, they came to some water. The man from Ethiopia said, "See! Here is water. What is to stop me from being baptized?" 37 (*Philip said, "If you believe with all your heart, you may." The man said, "I believe that Jesus Christ is the Son of God.&quot

1 JOHN 5:6-7

KJV

NLV

6This is he that came by water and blood, even Jesus Christ; not by water only, but by water and blood. And it is the Spirit that beareth witness, because the Spirit is truth.
7For there are three that bear record in heaven, the Father, the Word, and the Holy Ghost: and these three are one.
6 Jesus Christ came by water and blood. He did not come by water only, but by water and blood. The Holy Spirit speaks about this and He is truth. 7 There are three Who speak of this in heaven: the Father and the Word and the Holy Spirit. These three are one.
By now, the reader can see that the NLV does indeed follow the KJV. As I had mentioned earlier, most verses that do not agree with the critical text are either in parenthesis or are marked with an asterisk, but not consistently.
DISADVANTAGES OF THE NLV
The fact that this version includes most readings found in the
received text
will be a disadvantage for those that favor the critical one. Another problem with the NLV is that it may be too simple for the seasoned Bible reader. Some Biblical terms are perhaps represented too vaguely in the NLV. The term "circumcise," for instance, is rendered "religious act of becoming a Jew." "Pharisee" becomes "proud religious law-keeper." Too many Biblical words are represented by entire phrases in order to make this version readable. However, it is important to keep in mind that the Ledyards wanted to make sure non-native English learners could read Scripture in English.
Barbour Books picked up the rights to publish the NLV recently and offers several, very inexpensive editions. I picked my favorite copy up directly through the New Life Version website, but I don't think they will be producing any more editions once their stock runs out. Mine is large print with a very strong vinyl cover. It includes several beautiful illustrations and appears to have a sewn binding. All of this for only $14.50, plus $4.50 for shipping. I also have the Barbour edition, hard cover, and its nice too. You can pick one of these up through Amazon.
All in all, I think that the NLV Bible would make a welcome addition to any Bible collection. While perhaps not good for serious study, it is great during personal devotionals and just plain quiet time with God. I haven't read through entirely through it, but I think it is similar in spirit to the first edition of the NLT. It was produced through a true labor of love. As I dive into it, I can picture many Eskimos living in the cold Antarctic reading and understanding the Word of God for the very first time. We can enjoy it too, and read an edition of the Bible that is both dynamic and traditional.
---
Claudio Duckardt can be reached at
Cduck1965@aol.com
.