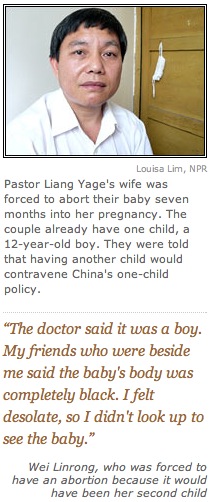 From NPR:
Morning Edition, April 23, 2007 · During the past week, dozens of women in southwest China have been forced to have abortions even as late as nine months into the pregnancy, according to evidence uncovered by NPR.

China's strict family planning laws permit urban married couples to have only one child each, but in some of the recent cases — in Guangxi Province — women say they were forced to abort what would have been their first child because they were unmarried. The forced abortions are all the more shocking because family planning laws have generally been relaxed in China, with many families having two children.

Liang Yage and his wife Wei Linrong had one child and believed that — like many other couples — they could pay a fine and keep their second baby. Wei was 7 months pregnant when 10 family planning officials visited her at home on April 16.

Liang describes how they told her that she would have to have an abortion, "You don't have any more room for maneuver," he says they told her. "If you don't go [to the hospital], we'll carry you." The couple was then driven to Youjiang district maternity hospital in Baise city.

"I was scared," Wei told NPR. "The hospital was full of women who'd been brought in forcibly. There wasn't a single spare bed. The family planning people said forced abortions and forced sterilizations were both being carried out. We saw women being pulled in one by one."
Read the full story
here
. It only gets worse.
There's great irony to this story. Kathy and I sent our adoption dossier to China earlier this year. Sometime over the next two or three weeks, all of our information will have been translated and logged into the Chinese adoption database. Then we will wait somewhere close to a year and a half (the current average is 17 mos.) to receive our daughter because
the demand for Chinese adoption is so very great
.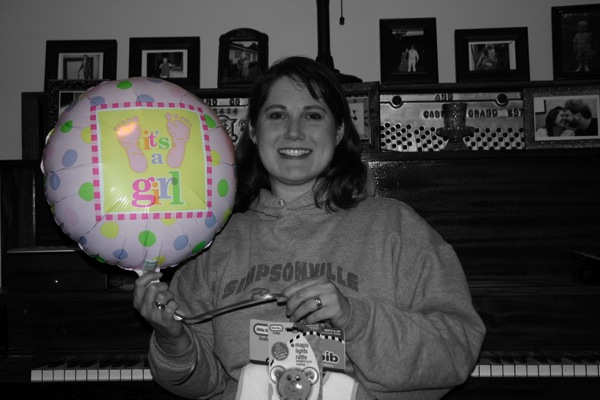 We're now officially
paper pregnant
as of Friday. Our documents were mailed to China yesterday by the adoption agency. This is known as DTC status (
D
ossier
T
o
C
hina). This would be the equivalent of expecting a baby, because now it's all over but the waiting. To keep up with our progress, be sure to regularly check in at
Kathy's blog
.