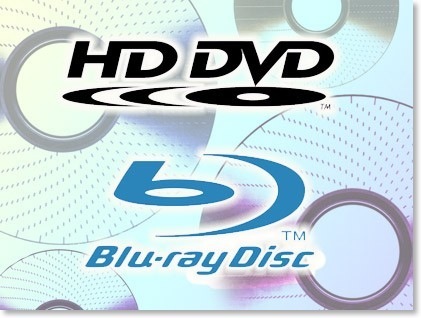 Early adoption involves risk.


A year ago this month I wrote about
my "free*" plasma television
I received as well as an HD DVD player added into the deal.
My follow-up post
described the format war in high definition video between HD DVD and Blu-ray.

In the past year, I've found that most people--even those who have high definition televisions (
those wide, flat ones
)--are mostly uninformed about high definition video. A friend of mine was quite proud of his new HD television that had been set up in his basement. I asked him, "Do you have a high definition video player?"

He paused, not sure what I was asking. "Yes," he said, unsure of his answer.

"What do you have--HD DVD or Blu-ray?" I asked.

Again a pause. "Well, I have an up-converter for my DVD's. Is that what you mean?"


Well... no.


A number of videos have been released with high definition on one side of the disc and standard DVD format on the other. It's a great way to show the difference between the quality of "old-school" DVD's and new high-definition video disks. It's an unbelievable difference, and once you go truly high def with a high def movie player, you can't go back to regular DVD's.

When I got my HD DVD player, I said that there were three main film or film series that I wanted in high definition: the Lord of the Rings trilogy, Blade Runner and the Matrix trilogy. As of Christmas since Kathy gave me Blade Runner (all five versions!), I have two of the three. The Lord of the Rings has been yet to be released in high definition. But it was promised to be on its way from New Line Cinema.

Nevertheless, in spite of the wonders of high def video, there's been a war going on. A war between formats. A war that harkens back in spirit to the old days of VHS vs. Betamax. This time the war has been between HD DVD and Blu-ray, with some studios backing one and some studios backing the other. For instance, Disney, Sony, and 20th Century Fox only deliver movies in Blu-ray format while Universal and Paramount only deliver HD DVD titles. The only major fence sitter left was Warner Bros who sells videos in both formats.

It's tough on the consumer because unless you have both players or unless you have one of the few dual format players (that cost upwards of $1,000), you simply can't get certain movies in high definition. When people asked me which format to invest in, I told them HD DVD, of course since that's what I had. But then I'd tell them that honestly, there was not any real difference in picture quality. I'd tell folks to make a decision so that the market could help decide things.

But I knew deep down that this could be a long war. I mentioned that in my post last January. See, when VHS and Betamax were battling it out, folks didn't have to get a whole new television to take advantage of the new technology. But for HD DVD and Blu-ray, they do. And even the change in broadcast channels to HD next February doesn't mean that everyone is going to throw away their old sets. Most will probably opt for a converter box.

Nevertheless, my collection of HD DVD movies has been growing. And I enjoy nothing more than popping in a new one and enjoying the experience.

But then there was last Friday...
black Friday
as some HD DVD owners are calling the day. The day when the format war was pronounced all but over except for the shouting. If you haven't heard, that was the day when Warner Bros., the last of the fence sitters, picked a side.

And they didn't pick my side.

WB stated that beginning in May, they would only release high definition movies in Blu-ray. Although I'm sure the corporate backers of HD DVD will fight till the end, most think that HD DVD is now sunk.

It's disappointing because in this format war that had gone back and forth, I was really starting to think that HD DVD might turn out to be the winner
in the long run
. With players dropping below $200 and brisk Christmas sales, things were looking up despite the fact that Blu-ray movies sell more copies at an almost 2:1 rate over HD DVD, thanks to the Trojan Horse Blu-ray player included in every Sony PS3 system. And it makes one wonder how things might have turned out differently if Microsoft, an official backer of HD DVD, had included an HD DVD player with every Xbox instead of just offering it as an add-on.

This week it was rumored that Paramount would also drop HD DVD in favor of Blu-ray. They have since denied this rumor, but I have to wonder how long they could possibly hold out. Also before the CES conference this week, it was rumored that Microsoft was going to announce a high-end Xbox with HD DVD built in. They have since denied this, but my hunch like a lot of other folks is that it was simply pulled at the last minute after WB's announcement.

Although there's no perceptible difference in visual quality between the two formats, HD DVD which had an almost year long head start over Blu-ray is really a more mature technology. An example of this was in the release of the movie 300 a few months back. The HD DVD version allowed the raw footage in front of the blue screen to be viewed in a window over the final production. The Blu-ray edition allowed the viewer to see the raw footage, but not at the same time as the movie was playing. The reason behind the difference had to do with Blu-ray's unfinished Java engine. For similar reasons, Warner Bros. has yet to offer the Matrix Trilogy on Blu-ray even though it has been out on HD DVD for a while.

So I look upon what was a nicely growing collection of HD DVD movies with disappointment. No, I'm not concerned about being stuck with a dead technology. VHS is dead, but I can still watch my video tapes. Vinyl records are a dead medium, but I can still listen to them if I want to. But I am hesitant to further buy anymore HD DVD movies, just as I would not want to buy any VHS tapes or LP's. And for that matter, I can't stand to purchase a standard DVD format as it is not truly high def, up-converted or not.

But my reticence to purchase any more HD DVD titles, just like most others out there in the same condition, will help to drive the nails in the coffin of the technology and allow the Blu-ray format to gain an even speedier victory.

At the same time, who can afford a Blu-ray player? This would be the solution to the HD DVD owners--to simply go out and switch sides with the purchase of a new machine. But Blu-ray players start between $350 and $400 for the low-end models. They are still simply way too high.

So we wait. I wish it weren't so, but I can't see how the HD DVD format can recover from Warner Bros. decision--which they admit was made to help end the format war. And in that regard, I reluctantly admit that it's for the best. I mean deep down, I'd prefer to be able to buy any movie I want in high def, not just ones that will work in my player. But I'm disappointed nonetheless. I picked the wrong side!


HD DVD, rest in peace. Long live Blu-ray
(he says with resentment).