U.S. District Judge John E. Jones denounced the Dover Area School Board in a ruling Tuesday, saying its first-in-the-nation decision to introduce intelligent design into the science curriculum violates the constitutional separation of church and state.

The ruling was a major setback to the intelligent design movement, which is also waging battles in Georgia and Kansas. Intelligent design, or ID, holds that living organisms are so complex that a higher force must have created them.

Source: "District Will Abandon Intelligent Design" (CNN.COM)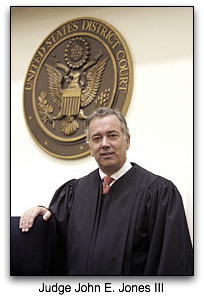 No doubt opponents of intelligent design see Judge Jones' ruling as a major victory. And maybe it is. But what does it really do other than restrict free discussion and debate in the public classrooms?
Until last May, I taught for five years at
Whitefield Academy
, a (private) Christian college prep school. The textbooks used in the high school science classes were not "Christian" textbooks, but rather standard secular high school texts--even in the biology classes. The books presented evolution--not creationism, not intelligent design. It was left to the teacher of the class to include these kinds of discussions and instruction. The feeling was that if a student graduated from our school without receiving a thorough knowledge of both evolutionary theory and the arguments against it, that student would be unprepared for life beyond the twelfth grade.
Look, I honestly believe that all truth is God's truth. It doesn't matter whether it's scientific truth, mathematical truth, or historical truth. Truth is truth and what's found to be true about origins and existence does not conflict with what's true about God. If Darwinian evolution were true, then it would be a process initiated and directed by God. However, like many others, I have come to have serious questions about the validity of evolutionary theory.
The problem is that the
Darwinati
(you saw the term coined here first) can't stand to have their explanation of things questioned. Nothing to them is open to discussion, let alone debate. Is this attitude responsible scientific inquiry? Is the current Darwinati dogma any more generous than the geocentric position of the Catholic church a few centuries back (which actually had more to do with Aristotelian physics than Christian--let alone
biblical
--theology)? The answer is no. And the Darwinati are so insecure that if anyone even hints at questioning their tenets, that person is labeled as ignorant or fundamentalist and essentially ignored.
If there is evidence of God's fingerprints in the cosmos, is that not just as much science as anything else? Yes, but the Darwinati won't even leave room for this idea. Heaven forbid if one day the phrase "God was here" was found in a DNA strand. There would probably be an immediate lawsuit filed by the ACLU to have it removed from the cells of every public figure on the basis of separation of church and state. If God himself stood on the Washington Mall and declared he created the world, would there be some who would want this event left out of high school history textbooks? Granted, I'm being facetious, but frankly, I don't think I'm too far off the mark from the way some extremists might react.
Contrary to popular misunderstanding, there wasn't an intelligent design curriculum being introduced in Dover. Rather it was a simple statement to be read to the students that there were some who had significant questions regarding standard evolutionary theory. How exactly did this violate the supposed notion of separation of church and state? No church, no denomination,
no particular religion
was being advocated in the statement.
So ignorance does continue. And admittedly it can be found on both sides of the argument because we aren't allowed to have public discussion of the issue. I admit that I'm no biologist, but
neither are
many of the people who are so opposed to the idea of intelligent design. I can't imagine that someone who would honestly and openly read something like
Science and Evidence for Design in the Universe
by Michael Behe or
Icons of Evolution
by Jonathan Wells wouldn't at least have
some
questions regarding accepted Darwinian theory.
At this point, opponents of evolution are going to have to regroup. The term "intelligent design" was coined as a means to question evolutionary principles without promoting the Christian worldview as done in the earlier creationism movement and creation science. In fact, I've heard some traditional creationists lambast the Intelligent Design viewpoint because in their view, it is not Christian enough. But Intelligent Design was never meant to promote Christianity. Rather, it's goal was to question Darwinian evolution. However, I don't know if this distinction is clear enough in the minds of the public at large.
Granted, I speak as a theist, specifically a Christian. I make no apologies for that. Personally, I lean toward the idea of an
old
earth/universe, but I reject macro-evolution and accept special creation. And as already stated, I believe that all truth is God's truth, and that includes scientific truth. In reaction to the Dover decision, I would therefore offer the following three suggestions:
1. The Intelligent Design movement may have to rethink its strategy. If current arguments lead to opposition based on the flawed notion of violations of separation of church and state, perhaps rather than focusing on the design aspects of creation, flaws in evolutionary theory should start to receive the main focus of attack. Granted, that is even another step back, but it may take arguments on that rudimentary of a level in order to create doubt in the minds of those who hold to evolutionary theory. Reveal evolution for the bad science that it is, and then work from there.


2. Questioning of evolution needs to be done from within the halls of the academy. Yes, I know much of this is already being done. However, there are also quite a few "skeptics of evolution" who have not raised their voice for fear of ridicule from their peers or marginalization. Further, our brightest Christian graduates need to be encouraged to pursue the sciences at all academic levels.

3. More Christians need to commit to teaching in the public schools. I've said this before in other contexts, but the public schools need to be viewed as a mission field. With the lack of free inquiry and discussion, public schools may not offer the best education any longer, but they do offer opportunities to reach young minds with truth, including the truth of the gospel.

The Dover decision is currently being viewed as a victory for the Darwinati. However, I wold pray that it might be a wake-up call and perhaps even a rallying cry: "REMEMBER DOVER!"