More Thoughts on Wide-Margin Bibles: Here's What I Want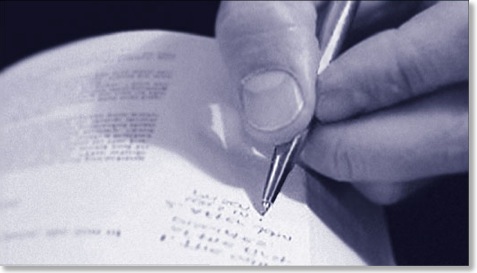 There seems to be a lot of discussion in the blogosphere recently about wide-margin Bibles and Bible note-taking in general.
This will catch you up to speed:
1. A little over a week ago, I wrote a blog entry surveying the current offerings of wide-margin Bibles by various publishers organized by translation. See
"A Survey of Wide-Margin BIbles By Version."
My goal was to encourage readers to interact with Scripture in a physical way by taking notes in their Bibles. In keeping with my philosophy of "the best Bible is the one that connects to you," I tried to represent as many as translations as possible.
2. In researching that blog entry, I came across J. Mark Bertrand's excellent article on the value of wide-margin BIbles:
"Marginal Interest: Why You Need a Wide-Margin Bible."
His justification for using wide-margin BIbles was so well-stated, that I merely pointed to his site rather than make my entry any longer than what it already was. See also Bertrand's story about
his influence on the ESV Journaling BIble
and his post today,
"Rolling Justice and Wide Margins."
3. Then, in
the comments to my wide-margin survey
, Matthew Mansini--a regular This Lamp reader and as it turns out, a connoisseur of wide-margin Bibles--offered an equally worthy description about a number of wide-margin Bible offerings.
4. On a related note, David Lang from
Accordance BIble Software
chimed in with a question to me regarding my methods of note-taking in Accordance. I embarrassingly admitted that this wasn't one of my habits. I've invited David to write a guest entry for us here describing the process. He's already written two introductory blog entries at the Accordance Blog: "
Paper vs. Electronic Note-Taking
" and
"User Notes: A Personal Example."
I will say this, the best justification for electronic note-taking I've heard from David so far came in his comments in the first blog entry where he wrote, "I hate to even mention the possibility of fire to a bibliophile like yourself, but notes in a paper Bible can be just as ephemeral as electronic notes--and they're MUCH harder to back up!" Electronic note-taking may become a habit for me as a way to backup what I've done by hand. Perhaps I will begin to do both at the same time.
5. The ESV Blog has a post today about one Bible Reader's attempt to interleave a blank sheet of paper between each page of his BIble. See
"Building Your Own Blank Bible."
I seem to remember these kinds of Bibles years ago when I was working in a bookstore. I want to say they were published either by Cambridge or Oxford. Obviously, some folks would prefer this method (although it makes for quite a thick BIble--think TWICE as thick), but my preference is for writing directly on the page, interacting with the text with lines, circles, brackets, highlights, etc.
6. In the upcoming days, look for a blog post here at This Lamp that describes one or two methods/systems for taking notes in a wide-margin BIble.
There are a number of wide-margin offerings out there, but seemingly not near enough. And everyone seems to have a different opinion, but what do YOU want in a wide-margin BIble?
---
Here's my quick list:
•
One column of text.
I've never seen a two-column wide-margin Bible where there was ample room for taking notes related to the inner column. The inner column is always cheated because of the binding even when the publisher sees fit to add space on the inside.
•
Readable typeface.
Minimum of 10 pt.; 11 pt. would be nice. Use normal character spacing as opposed to some of the narrowed text that has been used in Bibles recently to take up less space. Everything about the text should be easy to read.
• Wide margins that are really wide
. One and a half to two inches on the outside and one inch at the top, bottom, and inside. If text is one-column, the inside margin is not as big of a deal, but I would at least like a little bit of room for vertical brackets.
•
No thinlines!
Give us normal paper, not the tissue-like stuff that comes in the average thinline. I want to write in this Bibles without worrying about seeing too much of it on the other side of the page. I don't want the page to curl just because I've written on it and it's too thin. I know that this will be a
big
BIble, but that's okay. This is not a Bible to stick in a purse! The paper that comes in the Foundation Press single-column NASB or the Zondervan wide-margins are quite adequate in thickness.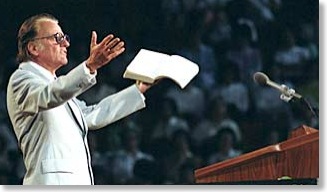 •
Smyth-sewn bindings.
This is not a BIble that I will handle delicately. I'll be writing in it--eventually on every page, hopefully. I might lean on it as I'm writing. I may press it flat before I write on it. Often I may carry it with me to teach from and at times balance it in my outstretched hand, Billy Graham-style. This is a BIble in which I will invest a lot of time, and may possibly hand down to someone one day. It should last for decades or longer without pages falling out.
•
Quality leather.
As this BIble will be intended for use over a long period of time, it should have high quality leather, not just bonded leather like some offerings. Some people prefer hardbacks for writing in, so I suppose a choice in covers would be important.
•
Black-letter only.
Red-letter Bibles to me are unnecessary as they tend to exalt some words in Scripture above the words of other. It's all God's revelation, so keep it all in the same color. Plus, red text is tiring on the eyes late at night.
•
No ruled-lines in the margins
. One of the more recently published wide-margin Bibles has tiny ruled lines in the margins for notes. I absolutely don't want these as I like to be creative with my white space. I need the freedom to write vertically if I'm bracketing verses or draw arrows to this and that in the text. Ruled lines would simply restrict my use.
•
Regarding the extras.
Cross-references outside of those already in the text's normal footnotes are unnecessary. In other words,
no columned cross-reference system
--this just takes up space that could be used for writing. I may write in my own cross-references or use another source for such. A concordance and maps are nice, but not much else is needed. Perhaps a few blank pages at the beginning, end, and possibly between the testaments would be nice.
---
These features are what I want in my next wide-margin Bible (I'd really like to see this in a TNIV
if Zondervan is listening
). Regarding the layout, only Tyndale's Notemaker's Bible and Zondervan's NIV and NASB Wide Margin BIbles have come close to what I describe above (but their bindings leave a little to be desired).
So what do you think? What are your wishes? I know for certain a handful of publishers have dropped by this little blog from time to time. Make your wishes known to them in the comments.
*The graphic of a wide-margin Bible at the beginning of this post was borrowed from the box top for the
Zondervan NIV Wide Margin BIble
.