Internal Serial Dongle Replacement Board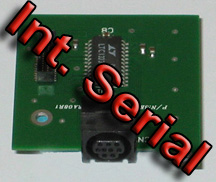 A unique Printed Circuit Board (PCB) that eliminates the need for a serial dongle adapter. Tired of fumbling around with that "dongle"? Wondering why Apple Computer designed the interconnect port which serves to no purpose besides requireing that a Newton user purchase an adapter to use common serial devices?

To give Newton designers credit, the Interconnect Port can do much more than serial communication however much of these capabilities never had a chance to be developed before the Newton was discontinued from Apple Computer.
Devices such as the Newton Keyboard and Newton serial cable require a serial port. With the purchase of this PCB that fits internally into the Newton 2000 or 2100 one will never be required to carry around a serial adapter again.
Device installs to reroute the interconnect serial port. It does not add a second serial port
Professional installation of board is available at no cost*
Board fits inside the Newton 2000 or 2100 and requires only the removal of the rear messagepad housing
functions in tandem with the Speed Boost Implant˛


Buy Now for only $85 Including Shipping!


*Return shipping and handling is the responsibility of the purchaser
˛Speed boost Implant must be switched off to facilitate serial communication.