Register
Before you have registered Services the program will allow only 2 telephone providers and 2 charge zones.
If you wish to test the program only, simply dismiss the registration screen by tapping the close box.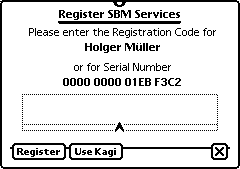 Enter your Registration Number and tap on "Register". The Registration Number will contain numbers only. You can double tap the input line to display the numeric keyboard.
To get a registration number you have to pay the registration fee of $15. You can do this online via
or using Newton Register by tapping on the "Use Kagi" button. As note please enter the name as given in the Owner Info settings or the Serial Number as shown in the registration slip (not the one from the back of your Newton). We will send you your Registration Number per email within the next few days.
If both methods are not acceptable for you, please read on http://www.kagi.com about the other possibilities. Please note that registering online or using Newton Register will accelerate the reception of your Registration Number.